;

PlayTradez is turning Wall Street upside down and pulling back the curtain for the little guy to win at the game.

; ;

Through our Registered Investment Advisor umbrella, we are able to make available to the subscribers, one of our proprietary algorithmic formulas and trading strategies to follow trade by trade.

Finally, the little guy has the fire power to make winning trades, over and over.

And unlike the "Wallstreeters", we put our money where our mouth is by having our alert signals audited quarterly, fully available to view.
By using PlayTradez Gateway,
the next bull could be you!
;

Through the sacred Gateway, the Ancients alert the user nightly, to the buy and sell signals on the stocks that are loaded into the formula.

;

It's as easy as picking up your phone and looking.

Simply follow the plan.
Follow the plan and the future is yours!
;
You've arrived at the Cavern of Truth.
Check out these frequently asked questions to learn more about Gateway.

What is included in my Gateway Subscription?

The subscriber gets nightly text alerts to the buy and sell signals, contained in the proprietary formula and trading strategy.

What is the buying period for the typical stock purchased from Gateway Alerts?

The average length of a trade signal is 90 days.

Can I cancel my subscription at any time?

Yes. There is no contract required.

How often will I receive Gateway Alerts?

The alerts come out at 8pm EST. nightly, for the trades starting the next day. The user has the advantage of knowing the night before, what trade signals are alerted for the next trading day.

I have never traded stocks, what do I need to know to get started?

PlayTradez was envisioned, designed and built for the little guy to have the fire power to win in this game. If you can open up a text, you can follow the plan. Whether you are a seasoned trader or a complete novice, through our Gateway, the next bull could be you!

What trades were there in 2021?

;
Gateway Pricing

Sign Up For Free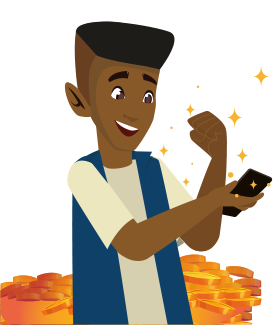 Through the Gateway, get nightly trade alerts, texted direct to your cell phone. No credit card required.

*For a limited time*

;
YOU can be the next bull!
;